BKDC 2015 Summer Activities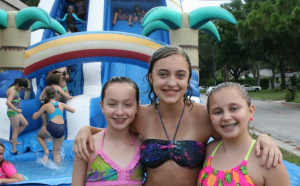 Summertime is almost here…a time when you will hear your children say I'm bored, what can I do today?
Brucie Klay's Dance Center offers dance camps that are fun, physical, educational and entertaining!
Half day and full day camps with options of early drop off and late pick up. Every camp includes all types of dance, theatre, acrobatics, voice, arts & crafts, outdoor fun including water slides and games.
Back by popular demand, two acrobatic intensive weeks for Int. & Adv. levels.
June 29 and July 27 
Train harder with our DANCE Boot Camp  July 20th and offered to dancers at high intermediate and advanced levels. Click below for complete information.
Early registration for camps will be accepted at the studio
March through May. Mondays – Thursdays………………………..3:30 PM – 6:00 PM