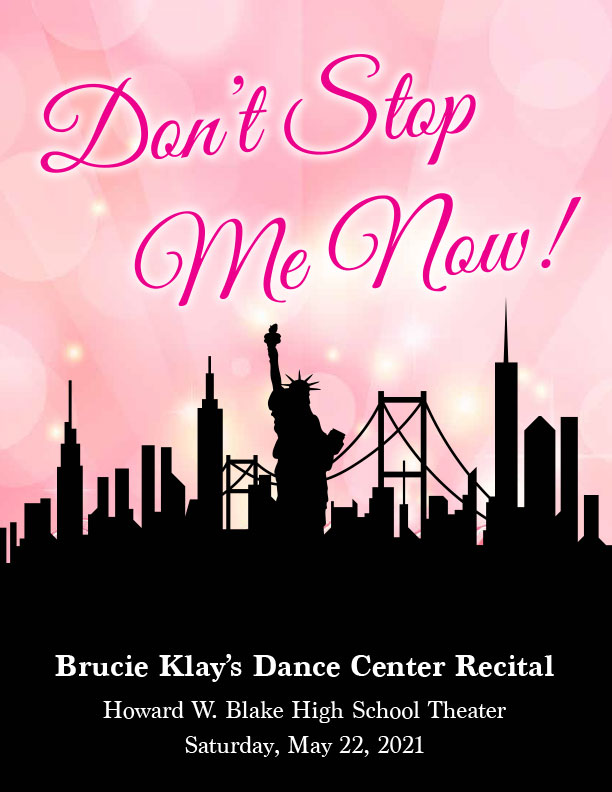 Recital Info

 

 
Dear Parents and Students,
Our 2021 recital will be held on Saturday, May 22nd, and our dress rehearsal the day before, Friday, May 21st. This year's show will be held at the Howard W. Blake High School theater, located at 1701 N. Blvd., Tampa, FL 33607. These performances will have socially distanced seating, and masks are required by all in attendance.
Tickets go on sale Monday, May 10th at 12:00 noon at https://brucieklays.ludus.com/ 
This year our recital will have two performances – a 1:00pm matinee, and a 6:00pm repeat performance. All BKDC students are involved in both shows but having two shows will allow for socially distanced seating as required by the CDC. The entire performance will also be professionally recorded, and DVD's will be available to order prior to the show.
The dress rehearsal Friday night will begin at 6:00 pm, with dances proceeding in the same order as the Saturday shows. All dancers are required to arrive between 5:00 and 5:30 PM in full costume, and wearing eye make-up and their own mask. Once the dancer is checked in, a disposable mask that matches the costumes will be supplied for the actual performances. All dancers, audience members, and backstage helpers are required to always wear a mask! Please feel free to email Brucie at brucie@brucieklays.com with any questions or concerns.
The recital fee will be invoiced in April and goes towards the theater rental, the backstage crew, a backstage manager, security personnel, ushers, theater lighting, and sound equipment. It also includes program printing, music editing, and insurance coverage. The recital fee is $50 per family.
Ticket sales for reserved seating will occur in May through an online ordering system and will be $10.00 each. Again, this information will be coming as we approach our show date.
Thank you,
Brucie Klay Boonstoppel & Staff
Cell # 813-335-0900